Committee for the restoration of the bridge of Saint Martino in Clavi of Imperia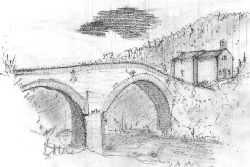 The day 28 February 2000 in Imperia, with notarial fit, was constituted the committee for the restoration of the bridge of Saint Martino in Clavi of Imperia
The committee has the finality of the restoration of the bridge of Saint Martino, the church of Saint Martino and the exploitation of the lake and the surrounding environment.
Thanks to FAI Fondo per l'Ambiente Italiano and its initiative "I Luoghi del Cuore 2004" it has been given the possibility to our friends to signal this monument. The signallings are most numerous, much to carry our bridge seventh between Italian monuments and first between Ligurian monuments with 2,700 postcards delivered.
Always thanks to FAI, associations and companies as "Unione degli Industriali della Provincia di Imperia", in 2007 the church of Saint Martino was restored.