Welcome to the site of Torrazza
If you don't know Torrazza and its territory we explain you its beauties. Beauties that however we invite to visit as soon as possible!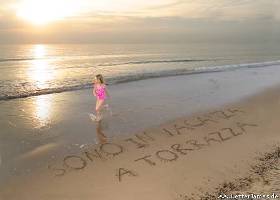 Torrazza is at six kilometers from Imperia, Liguria, Italy near to France and Costa Azzurra. Arrive here is simple even through highway then road.
Through highway you must get off to 'Imperia Ovest' and turn right direction 'Piani' for one kilometer. Through road you must go to 'Imperia Porto Maurizio' and then follow indications for highway. Then you continue for Dolcedo and after two kilometers you meet Clavi, a little country with ancient and important constructions as the church of Saint Martino and the bridge of Saint Martino. At the beginning of Clavi turn left direction Torrazza, from here the road is in light slope. At about two hundred meters, on the left, you find the ancient church of Saint George, consecrated in the 1001 and built on the ruins of an ancient Roman temple. Continuing the road for a kilometre you arrive to destination, where the road ends. Torrazza, castled on the hill, was an excellent defence to the Saracen invasions, as testimonied by the towers in the centre of the country and the saracen tower that is on the summit of the country and dominates the whole prino valley. Under the tower there is the church of Saint Bernard, restructured by the committee for the restauration of the church of Saint Bernard. In the centre there are the church of Saint Gottardo, the church of Saint John and the palace Manfredi with loggias.
---